Navigating the Shifting Tides: An October 2023 Supply Chain Update
In the ever-evolving realm of supply chain management, being in the know about market conditions is a vital part of making smart business decisions. As of October 2023, the PET (Polyethylene Terephthalate) market is expected to be weaker in a narrow range in the short term, with prices slightly decreasing and maintaining around 7,200 RMB/ton.
Meanwhile, the Polypropylene (PP) market has seen some producers directing their materials towards exports, which has impacted the availability of immediate supplies. We've also noticed minor price fluctuations in various Polyethylene (PE) resin grades.
On the pulp side of things, both softwood and hardwood pulp markets have shown notable price increases throughout September but a slight decline to the start of Q4.
This supply chain update aims to provide a comprehensive look at these market conditions and their implications for businesses in these sectors, offering insights to assist with strategic decision-making in this ever-changing landscape.
PET (Polyethylene Terephthalate) Market
As of October 2023, the PET market supply and demand were balanced. This week's PET prices were weaker, with a 0.55% decrease compared to the same period last week as the focus of negotiations were relatively low, with the mainstream price around 7,200 RMB/ton. Latest key PET enterprises quoting prices as follows:
Jiashan Plastic Trading Co., Ltd.: 6,900 RMB/ton
Shanghai Shangxinrun New Materials Co., Ltd.: 7,450 RMB/ton
Shanghai Hongqi Plastic Technology Co., Ltd.: 7,500 RMB/ton
Experts in the PET market anticipate that stability will maintain although we've seen a weak start to Q4 with prices staying close to 7,200 RMB per metric ton.
Key Takeaway: Direct consumers should expect a steady rate through Q4 with minimal changes in the PET market from Asia, with the consideration of crude oil and transportation staying consistent.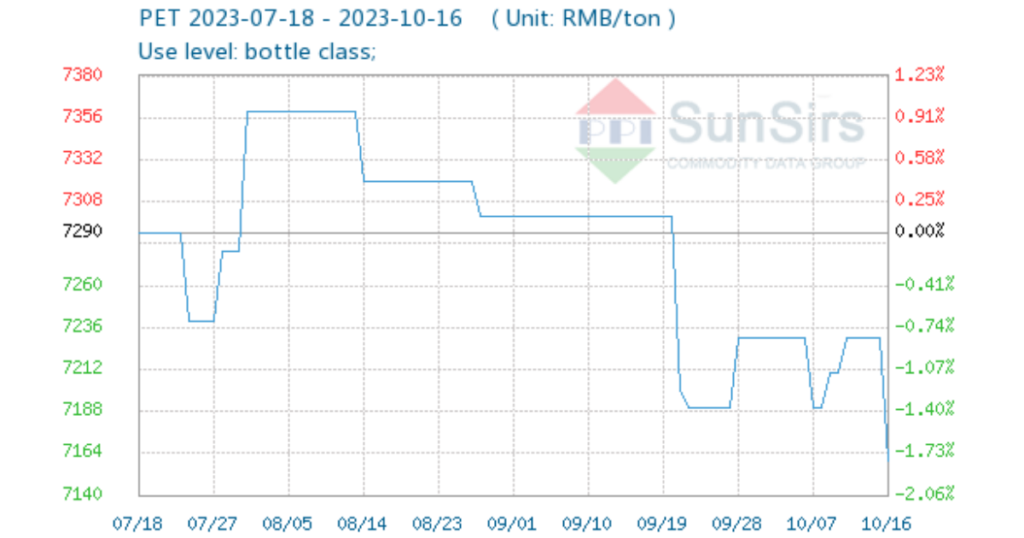 Current PP Market Stats
Recently, in terms of PP raw materials, crude oil fell at the end of Q3, which negatively affects the propylene market.
However, there is not much pressure on on-site inventory, and there is a strong willingness for upstream pricing, with a focus on stalemate operations.
The calendar flipped to October and the Polypropylene market was off to the races; a substantial amount of resin transacted and HoPP out-stripped our CoPP sales, while packaged truckloads commanded a nice premium.
Spot PGP held around the $.40/lb level, and this elevated monomer cost kept upward pricing pressure on the PP resin market, which stepped up another cent. Processors, facing another cost-push price increase, tapped the spot market to secure generic prime and off-grade resins which are still discounted to their pending Oct contract levels.
While a tepid flow of off-grade railcars continued to flow, the higher quality offers were snapped up at ever-rising levels.
Key Takeaway: With the abundance of on-site inventory, direct consumers should expect PP pricing to stay consistent and competitive until mid Q4. As we continue to monitor the market, the price of crude oil will play a crucial part in the variance of cost.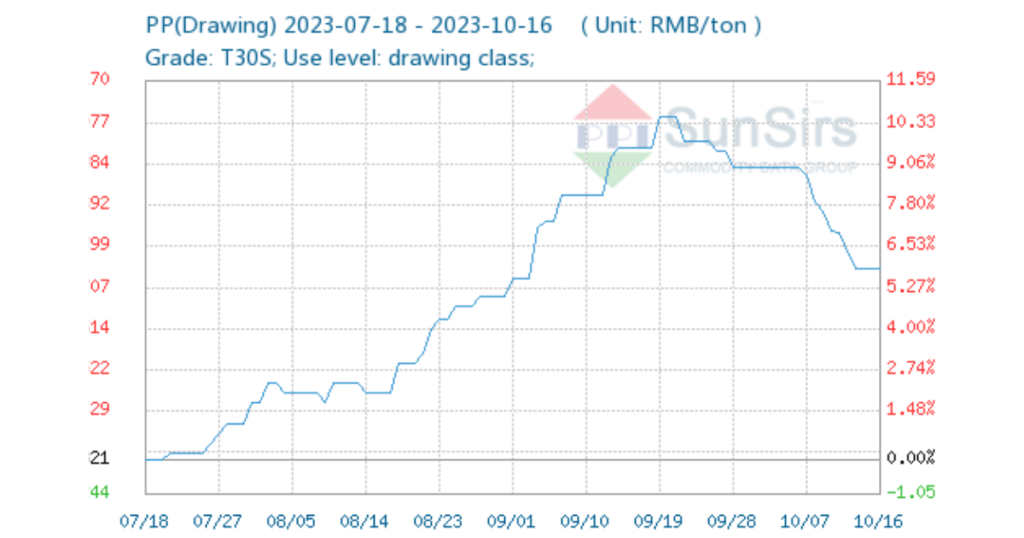 Pulp Market
The pulp market has seen a slight decline in both softwood and hardwood pulp closing out Q3, with a slow start in Q4. However, in terms of supply, with the end of the National Day holiday, the recycling volume of packaging plants may increase, and the market inventory level is still at a high level. By observing market changes, it can be seen that the spot prices of softwood pulp and hardwood pulp had shown a trend of first rising and then falling this week.
In terms of the future, on October 20th, the opening price of the Shanghai Stock Exchange pulp futures sp2401 contract was 6,200 RMB/ton, with a maximum price of 6,234 RMB/ton, a daily decrease of 1.36%, a trading volume of 549,800 hands, and a position of 270,151 hands.
Experts in wood pulp believe that the current market has gradually shifted to a state of strong supply and weak demand in recent times. The continuous rise in wood pulp prices had led to significant cost pressure on downstream paper mills, so procurement was mainly based on demand. However, there was still an increase in the external quotation, which still supported the price of wood pulp. It is expected that the spot price of wood pulp will temporarily be volatile and weaker in the short term.
Key Takeaway: With the slight decline in demand, direct consumers should expect the Asia pulp market to stay consistent and possibly see better pricing as the demand is lower than forecasted.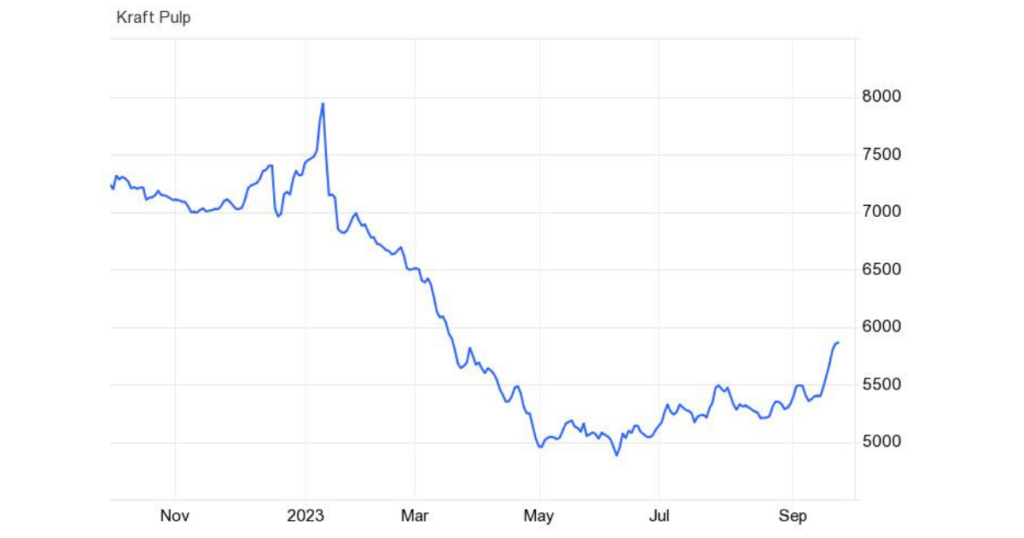 Please keep in mind that market conditions are always subject to change, and it's advisable to stay updated with the latest developments in these markets.
Steph Haas
2023-10-30T21:11:59+00:00